Catering
Innovate are Aylesford School's chosen catering partner.
Innovate by name and nature. Food choice, flexibility, quality and speed are at the heart of what we do. Inspired by the best and most fashionable high street concepts, we pride ourselves on fusing fantastic quality food with quick service.
Everything has to start with fantastic quality and responsible food. Across our wide, diverse and ever-changing menus, we ensure that every single morsel is safe, sustainable and tastes great. We only source from farmers, wholesalers and catering butchers that are audited to UKAS accredited standards and meet the highest possible assurance levels.
We use our ears and listen to students, understanding what they want and then reflecting their desires on our menus, in our environments and through our initiatives. Working with Holyrood Academy in this way embeds us as a valued part of your community.
In addition to great food in great environments, we are committed to becoming an 'Impact Organisation' and doing whatever we can to create a better world. Our vision and values are entirely aligned to working with our schools to create a positive food culture and a commitment to brilliant food, genuine partnership, and impassioned service.
Letter to Parents - regarding tariff increases from September 2023
September 2023
Dear Parent/Guardian
We have gained a well-deserved reputation for never compromising on quality, portion size, choice or value, which is why we are proud to be serving so many students across the country.
The challenges we're seeing in our kitchens are the same as those you're likely experiencing at home. Ingredient prices are rocketing, and energy costs are sky high. Additionally, we're funding important wage increases for our teams. Here's some background information that we would like to share with you.
Food Inflation is at 16.5%
As is the case for supermarkets and restaurants across the UK, we're seeing near weekly increases in the prices of food and drink. Supply volumes have dropped, due to factors such as the invasion of Ukraine, bird flu, swine fever and extreme weather internationally, driving prices up. We're working closely with our chefs and supply partners to introduce new products and dishes, but these mitigations have limits.
Staff Wage Increases
The Government has increased the minimum wage by 9.7%. This is a positive move that will mean our teams are better able to address the cost pressures they are under. It is 3% higher than last year's record rise, which is great progress, but does subsequently create funding pressures.
We have absorbed some of the cost increases and continue to seek further efficiencies, however, we need to implement a tariff increase of 6.6% from September 2023. This is a below inflation increase, which will allow us to maintain quality services and support our catering teams. The situation is far from ideal, we would like as many students to enjoy our services as possible and we appreciate price increases make this harder, particularly when many families are feeling the effects of high interest mortgages and the general cost of living crisis. That said, we believe our food continues to offer excellent value for money.
As always, thank you for your support and understanding. We will continue to partner with schools, students and parents to explore new approaches and gain input and feedback as we navigate this challenging period. If you have any thoughts you would like to share with us, please get in touch – we'd love to hear from you.
Kindest regards
Ken Navin
Client Relationship Director
SECONDARY TARIFF - as at September 2023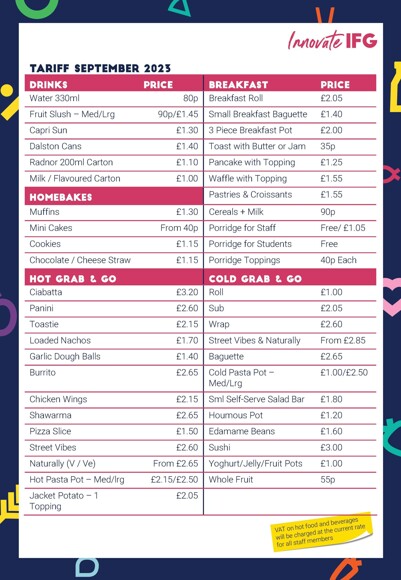 For further information and to see the menus for both the Primary & Secondary Phases, please click on the links below:-
Free School Meals